Daily Specials
Wednesday - Sunday
Choose from Narragansett Lager or Pier Beer Summer Blonde.
2 bottles of Sangria ($10 savings)
Draft Beers
Served in 16oz Cups
Refreshing pale ale with bready malt flavors, a snappy clean bitterness and a bright, floral aroma. Clean and easy! 5% ABV
A classic east coast IPA! Pungently citrusy, grassy hop flavor without being crushingly bitter. A timeless brew! 6% ABV
Captain Lawrence Citra Dreams IPA
Bold and juicy NEIPA dominated by citrus and light herbal notes from the Citra hops. Moderately bitter and medium body. 7% ABV
New Belgium Fat Tire Amber Ale
Expect a light touch of toasty malt flavor, biscuit and caramel notes and flash of hop bitterness. Medium body, finishes clean and easy. Yuengling or brooklyn lager drinker this is for you! 5.2% ABV
Style: Session IPA - Satisfies your tastes while keeping your senses sharp. Brewed with a complex array of ingredients. Balanced for optimal aromatics and a clean finish. 4.7% ABV
Refreshing balance of citrus and spice, Wheat, coriander, and Curaçao orange peel round out the flavor of this pale straw-colored, hazy beer. 5.2% ABV
This beer was inspired by both East and West coast IPAs. Drawing its dank piney hop character from the West, and its smooth light bitterness, along with its dry ``crushabilty`` from the East, Vine Shine combines both styles to make a truly unique IPA. 6.5% ABV
Hoboken Brewery Bodi Blonde
Coconut infused blonde ale, super smooth, with notes of citrus. 5.5% ABV
Troegs Haze Charmer New England Hazy Pale Ale
Haze charmer emerges from a soft, swirling cloud of oats and unfiltered wheat. Vigorous dry-hopping adds a second phase of haze, propping up the oils of el dorado and citra hops. 5.5% ABV
Easy drinking summer blonde beer, perfect intro to craft beers.
Dogfish Slightly Mighty Lo Cal IPA
Only a 95 calorie IPA but full of flavor! Notes of tropical fruit…pineapple, coconut, mango and citrus. Wonderful hop aromatics. 4% ABV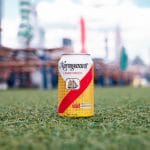 A classic American lager beer. Crisp, clean and refreshing. Do you like light beer, Pabst, Bud, Miller or Coors? This is your beer. 5% ABV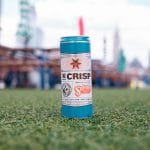 Look, legit pilz should have an aroma that leaps from the glass, and the bright, floral aroma of THE CRISP absolutely blasts your nostrils. Follow that up with a crisp, clean finish, and you'll be sinking this thing by the liter. Abv: 5.4% Regular beer drinker this is your beer.
Spiked Seltzers & Vodka In A Can
100 calorie, no sugar, gluten free, vodka & seltzer with real juice 4.5% ABV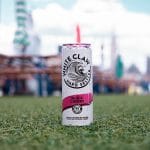 White Claw Black Cherry 16oz
This seltzer needs no introduction! A clean fermentation of raw sugar and the addition of natural black cherry flavor that is light, flavorful, and always refreshing. Only 100 calories per can. The best selling seltzer on the planet! 5% ABV
Mighty Swell Peach Spiked Spritzer
110 calories, 4g sugar, made with real peach juice, super flavorful and refreshing
Frozen drinks
$14 16OZ CUP | ADD A FLOATER +$4
Cuervo blue agave blanco tequila, fresh agave, lime juice
Tequila, Grapefruit Vodka, Aperol
Vodka, pineapple, ginger, lime
Spiked Lemonade & Punches
$14 16OZ CUP • $25 32OZ BUCKET • $43 FOR BOTTLE
Strawberry rum, vodka, peach puree & lemonade
Peach vodka, vanilla rum, peach puree, lemonade
Vodka, coconut rum, orange juice, cranberry juice, strawberry puree, lemonade
Sangrias
$14 16OZ CUP • $25 32OZ BUCKET • $43 FOR BOTTLE
Cocktails
16OZ CUP | $25 32 OZ BUCKET
New Amsterdam Vodka and Flavors
Jose Cuervo Traditional Blue Agave Tequila